Hearing the concerns of Seven Trees Neighborhood residents who want to stay in San Jose Council District 7, the Redistricting Advisory Commission took off the table three possible population transfers to District 2, including an area that includes the new Seven Trees Community Center.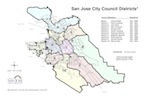 "Seniors have invested a lot of time, energy and hard work in the Seven Trees area," said Carolyn Johnson, who works with the Iola Williams Senior program at Seven Trees Community Center. "Many of these programs have been in existence for nine years and would be severely impacted if we have to start from scratch."
Elizabeth Contraras, acting president of the Seven Trees Neighborhood Group, echoed the feeling.
"We do not want to regress," she said. "We feel that we would have to compete with other neighborhoods in District 2. We would have to start all over with issues. We are happy with the things we have accomplished and would like to continue to do so."
Commissioner Dustin De Rollo, who represents District 7, agreed, calling the possible shifts "bad transfers" and proposing they be remove from consideration.
As the redistricting process moves into its 13th week, the request to avoid splitting neighborhood groups and school districts has become familiar to commissioners. But something has to give as commissioners work to equalize populations in San Jose's 10 council districts to about 95,000 residents.
Data from the Census shows that Districts 1, 9 and 10 need to get bigger, and Districts 4, 6 and 8 need to get smaller. Districts 2, 3 and 7 meet population requirements but their boundaries, too, will change as a shift in one district sets off a chain reaction that affects others.
At the meeting on Monday, April 25, at Evergreen Community Center, senior planner Michael Bills was able to show off mapping software that can move a boundary with a click and calculate the population shifts. It's a tool that anyone can try out at City Hall by making an appointment with Bills.
Also taken off the table at the meeting were three areas that would have been transferred from District 10 to District 9. An area that seemed to receive agreement for now is a transfer of about 7,000 people from District 6 to District 1 in an area bound by Interstate 280, Highway 17, Winchester Boulevard and the Campbell border.
A look at correspondence to the commissioners and to the City Clerk's office shows other issues emerging. Residents of the McKinley/Bonita Neighborhood oppose a plan that would move a wedge of their neighborhood near McKinley School from District 3 to 7. And residents in an area between Dry Creek Road and Curtner Avenue want to stay in District 6 rather than move into District 9.
The next meeting and public hearing will be at 7 p.m. on Monday, May 2, at the Mexican Heritage Plaza, 1700 Alum Rock Avenue. The proposals are to be submitted to the City Council by May 31.