In an effort to fill San Jose's "food deserts" with fresh tomatoes, squash, lettuce and corn, San Jose has streamlined the process for small farmers' markets to operate on private property.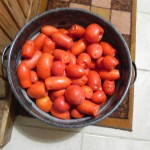 The San Jose City Council voted unanimously at its Tuesday, August 14, meeting, to allow certified farmers' markets with 15 or fewer vendors to sell produce without a permit. The move is especially important to neighborhoods in "food deserts," where stores selling fresh produce are not readily available.
"We know the struggle when there are way more fast food restaurants than places to get healthy food in our neighborhoods," said Pamela Gudino, a staff member of Somos Mayfair. "I think it's really important to change the dynamics."
To be certified, a small farmers market would need to apply to the County Agricultural Commissioner and receive a permit from the County Department of Environmental Health.
The process for larger markets also was streamlined, requiring operators to receive a special use permit, which is quicker and less costly than the usual conditional use permit. Instead of waiting as long as 16 weeks and paying $3,000 for a permit, the process will take six to 12 weeks and cost $1,400 to $2,000.
The smaller markets can have as many as 15 vendors, with only three for arts and crafts, operate two days a week at the same location between 7 a.m. and 9 p.m. in an area less than 10,000 square feet. The markets also must be able to accept Calfresh Electronic Benefits Transfers (electronic food stamps).
"Our goal is to incubate and let them try out with very low risk," said Planning Director Joe Horwedel. "Once they get successful and bigger, that's when we talk about a special permit."
The streamlining received strong support from the Health Trust of Santa Clara County, which gave a $25,000 grant to the San Jose Planning Department and a $25,000 to the Parks, Recreation and Neighborhood Services Department to increase access to healthy food. The Health Trust is managing the Campaign for Healthy Food San Jose.