Although she was a familiar figure on West San Carlos Street, little is known about a homeless woman who was brutally slain at a busy San Jose intersection on Monday, August 13.
Still, the makeshift memorial on a light pole near the slaying continues to grow with candles, notes, flowers and stuffed animals – a tribute to a woman who one of the mourners called "as much a part of the neighborhood as anyone else."
Residents and business owners in the Burbank area have organized a vigil for 7:30 p.m. Monday, August 20, at the slaying site. And online fundraising campaign has been launched to raise money for the Julian Street Inn, which provides services for mentally ill homeless people.
According to eyewitness and police reports, a man wielding a sword stabbed the woman to death as she sat on a sidewalk near the Walgreen's store on West San Carlos near Meridian Avenue. On Wednesday, August 15, San Jose police arrested a suspect, 37-year-old Marquis Reynolds, of San Jose, in the slaying.
While police have yet to identify the victim, some knew her as Gail and said was a Brooklyn, New York, native. Randi Kinman, a resident of nearby Sherman Oaks Neighborhood, said she had also heard her name as Annie, Shelia or Carol and that she was believed to be from Boston or England.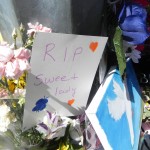 Janice Rombeck | NeighborWebSJ
The homeless woman was camera shy and some said she didn't like to be helped. But visitors to the vigil have left notes that reflect their connections with her.
"Jane Doe," begins one. "For the past 15 years, I would drive down San Carlos to work. I would always see you in front of Cash & Carry. You never asked anyone for money. Then one day while I was driving down San Carlos, I didn't see you anymore. That's when I thought you found a place to stay or family found you. But awhile back, I noticed you with a walker in front of Walgreens. You're in a special place with no worries. That special place is with God. This world is so cruel. You're finally at peace."
Another wrote, "This woman was considered 'homeless' though she had a home. This woman lived up and down San Carlos, or the Burbank Area, chatting to herself, hurting no one, for many years. I called her Annie and when I walked past her I knew she was as much a part of this neighborhood as anyone else. She was the Burbank."